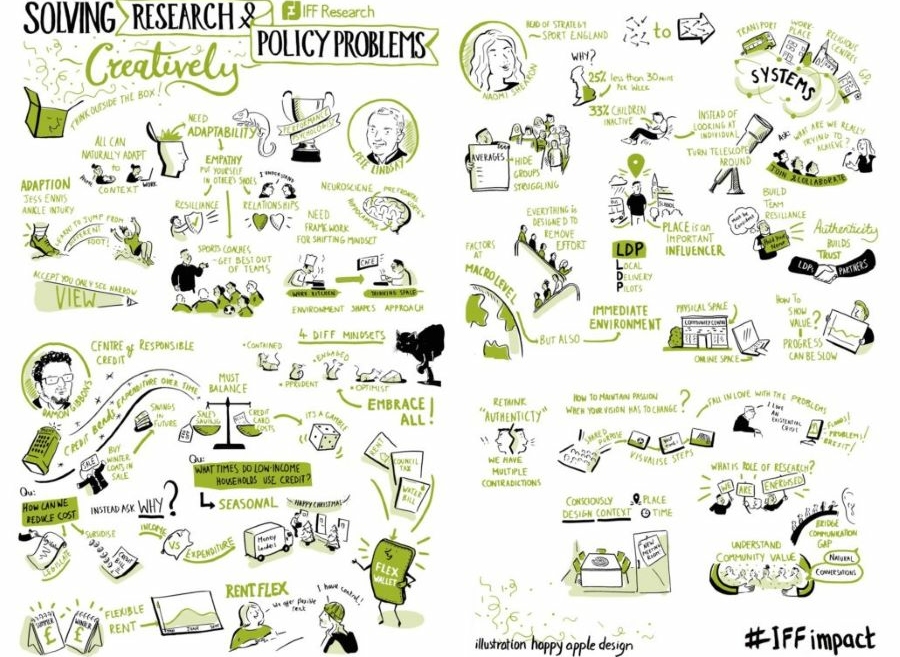 Part of our biannual seminar series, we had the pleasure of bringing together a cross-sector group of research professionals from the public and private sector for an evening of discussion and deliberation around a common theme.
We live in increasingly uncertainty times. With climate change, political and societal division and stagnating social mobility, we face some seismic problems as a society. In addition, most of us encounter additional challenges at work and at home. Having the skills, ability and confidence to solve these problems effectively is key to both our performance and our wellbeing.
Kicking off the evening was our first speaker: performance psychologist, Pete Lindsay. Having worked with a number of the country's most high-profile and high-performing athletes, as well as a wide variety of businesses, Pete knows a thing of two about optimising performance. With increasingly complex lives, Pete spoke of the importance of adaptability, citing it as the most important predictor of performance.
Breaking it down, Pete talked about two key elements than impact on our ability to adapt:
– He explained that everything is about context, and that people behave differently in different contexts. With the ability to adapt inherent within us all, we just need to understand and interpret the context effectively.
Talking of the importance of creating a context that fosters creativity, he described how Michelin-starred restaurant, The Fat Duck, operates two kitchens – one for 'getting the job done' and another for creating new dishes.
– Secondly he talked about the importance and impact of perception in that interpretation, explaining that our account of the world differs based on our experience.
Pete shared a number of frameworks that can be used in our everyday lives to enhance our adaptability and subsequent performance as well as enhance our interactions with others. Concluding that while we all have our own default reaction to stimuli – we can use our interpretation of the context and understanding of perception to change our response. And it's that choice which is at the heart of adaptability and subsequent performance.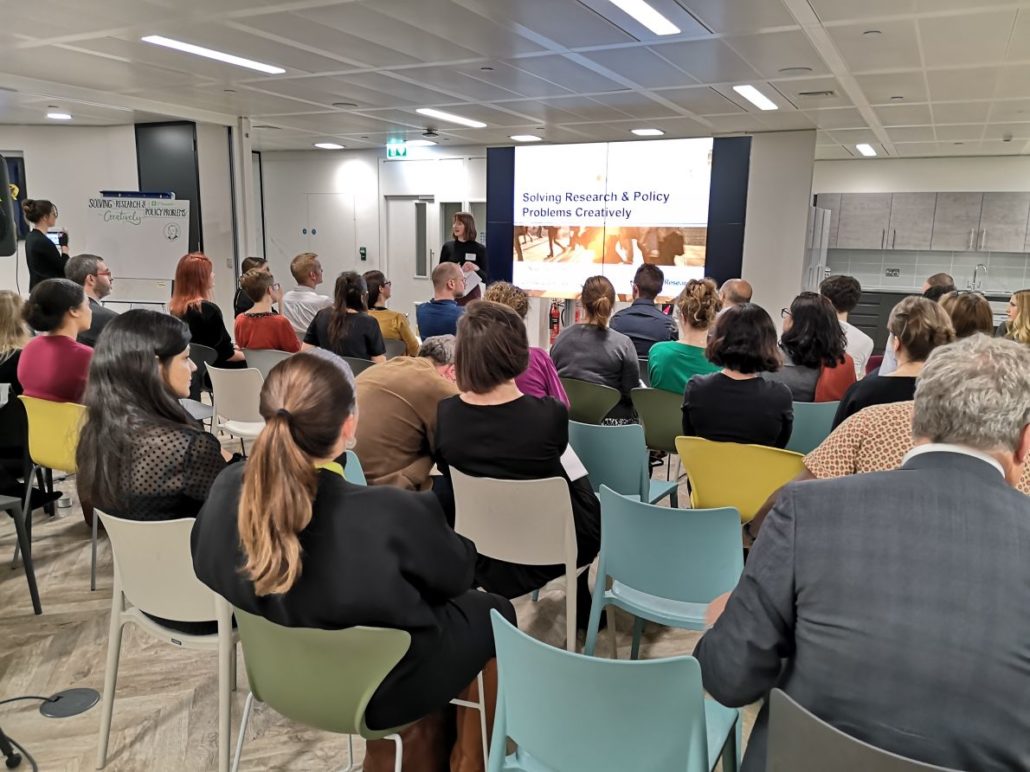 Pete was followed by Damon Gibbons, Director for the Centre for Responsible Credit. Having recently launched the Rent-flex pilot in social housing, Damon spoke about his learning from this project and how he and his team learned to work creatively to solve some of the challenges present in the sector.
Damon explained that fundamentally it comes down to how we look at a problem, citing the importance of focusing upon the problem, not the solution. He described how thinking differently about the problem and framing the question differently can offer a better outcome. Using the Rent-flex example he spoke of their thought process during the planning stage:
"What if it wasn't about how can we reduce the cost of credit for people on lower incomes. And we asked instead how can we reduce the need to use high-cost credit."
He explained that by changing the emphasis of the question they focused not on cost, but rather on the drivers of credit use.
Damon concluded by stressing the importance of learning from the past when trying to solve present and future problems, balancing current and likely future needs. As well as the benefit of looking to and learning from other sectors.
Last but by no means least, was Naomi Sharon, Strategy Lead at Sport England. Naomi spoke about their focus of doing it differently during their Local Delivery Pilots aimed at increasing activity levels. With 1 in 4 of us not moving to a level that raises our heart rate once a week the scale of the challenge Sport England face requires creativity.
Reiterating Pete's point on importance of perception, Naomi used the example of the word sport – and how that evokes different memories, emotion and reactions from us all – for some of us that's positive, for others it can be quite painful.
Describing the challenge Sport England face, Naomi spoke about in modern-day life we work hard to remove effort from our lives, with the introduction of technology and innovation. And so the idea of encouraging people to inject effort into our lives goes against human nature. Linking to Pete's earlier point, she explained that understanding behaviours is a part of solving this problem and that the factors that influence activity levels are based on context. Naomi reiterated that it goes way beyond the motivation of an individual or the choices they make; rather that activity levels are dependent upon context, describing how: the amount you see others exercise, whether it's the norm for your family and friends, whether your physical space feels safe and there are appealing opportunities available shape activity levels more than 'getting off the couch'.
Sharing some of their learning with us Naomi delivered some interesting and thought provoking lines, describing how: "Falling in love with the problem is the beginning of creativity"
Sharing their mantra: "stubborn on the vision, flexibility on the detail", reflecting on the importance of adaptability, while sticking rigidly to your vision.
As well as citing the importance of building trust when trying to do things differently: "The currency of change is trust".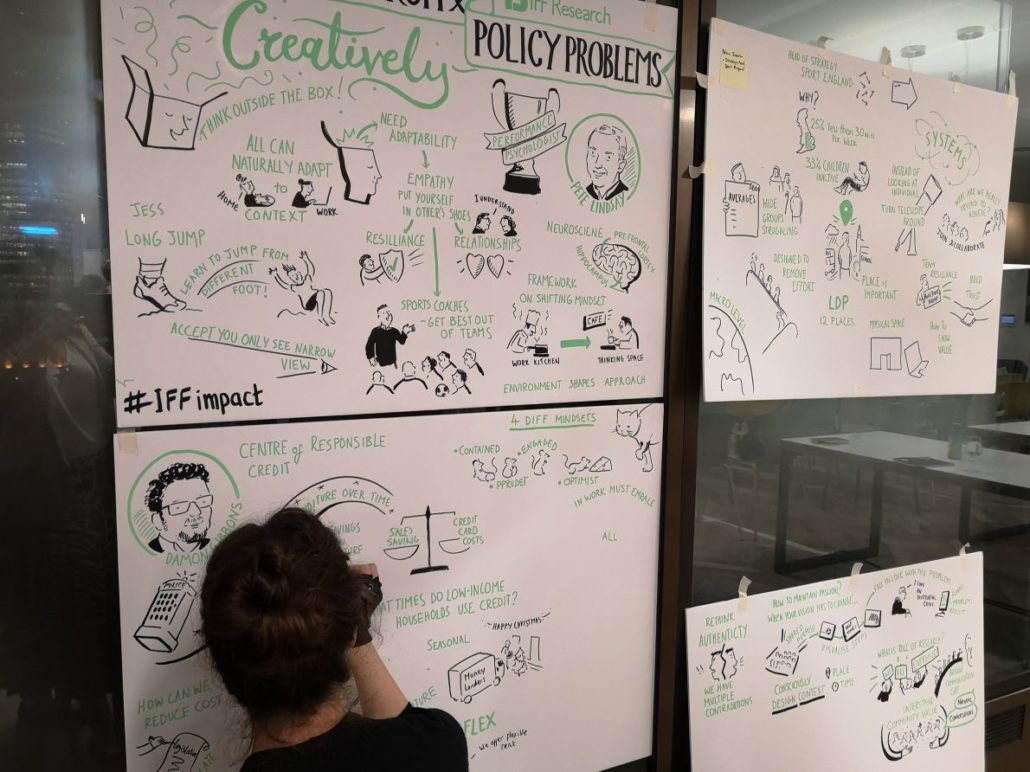 After some time for questions from the audience we ended the evening with some delicious treats served by Elysia Catering – an organisation that exists to solve the problem of food waste through sustainable practices and partnerships.
It was great to see so many of you there – we do hope you enjoyed the evening!
We hope to see you next time, for our spring event.