Regulation research specialists
In light of current economic challenges, proportionate regulation to ensure fair and sustainable business practices and to protect consumers is more important than ever.
We help regulatory bodies collect high-quality independent data to make fair and informed decisions to support businesses, protect consumers, and lay the foundations for economic growth.
Regulation specialists
Our understanding of the different roles regulators play authorising, supervising, enforcing means we understand your challenges, we speak your language, and can design a programme that delivers.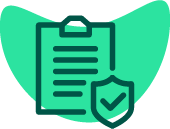 Results that stand up to scrunity
We appreciate the importance of quality and robustness. Our systems and processes, including thorough quality assurance, giving you full transparency and confidence that your data will stand up to scrutiny.
Wider understanding
Our directors have expertise in different markets – including energy, finance and law. This means your project team will not only be familiar with regulatory principles, but will also understand the wider policy context in which you operate.
Some of our specialisms
From one-off surveys, to complex evaluations, we offer a wide range of solutions, to meet your insight needs. Here are a just a few ways we can help.
We're here to help!
Looking for information on what we offer, and how we might be able to help? Please complete the form below, and we'll be in touch shortly.