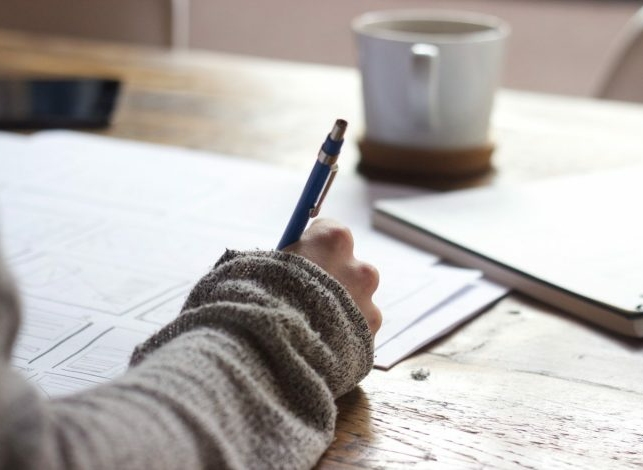 Research conducted by IFF Research on behalf of Scottish Government has today been published as Official Statistics. The research found that just over half of employers had a full or part-time vacancy over the past 12 months. This equated to just under 77,000 establishments, and was a larger proportion than found in the 2019 survey. Our study of Scottish Employers' Perspectives covering findings from 1,000 employers in late 2021, also found that meta-skills – such as problem solving, critical thinking, communication, creativity, and leadership – was the attribute most sought by employers in candidates.
What was the research about?
The Scottish Employer Perspectives Survey (EPS) 2021 is a large-scale telephone survey of employers in Scotland, which provides labour market information including:
Their recruitment of new staff
Their perceptions of new recruits (including young people and education leavers)
Their awareness and use of schemes or initiatives
Their offering of work placements and apprenticeships
It was the first in the series to be undertaken since the start of the COVID-19 pandemic and since the UK's formal departure from the European Union.
A decline in employers offering work placements to school pupils since 2019
In 2021, we found that was a decline in the number of employers that provided placements for school pupils compared to 2019, dropping from 20% to 8%, equating to just over 12,500 employers. Related to this, around 8% employers engaged with educational institutions to provide work inspiration activities over the last 12 months, around half of the number that offered these in 2019. Work inspiration activities may include activities such as hosting site visits for students, talking to students about careers, or conducting activities such as mock interviews to improve the employability of students. Employers were most likely to give altruistic-related reasons for offering work inspiration, rather than reasons related to a 'company benefit', as shown in the chart below.
Figure 1: Reasons for engaging with educational institutions to offer 'work inspiration' activities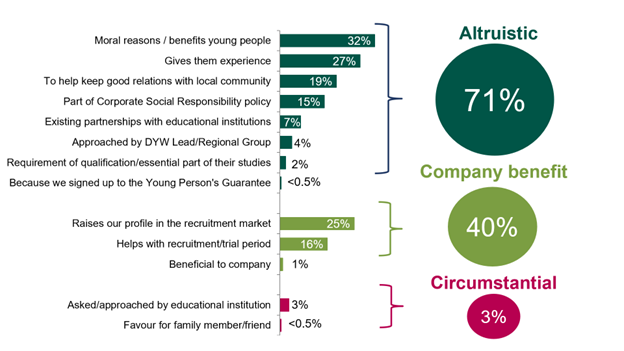 Employers providing external training has declined since 2019
Seven out of every ten of employers in Scotland had provided training to their staff in the year prior to the survey, the same proportion as in 2019. While internal training levels have remained at a similar level to two years ago, in 2021, we found that the number of employers offering external training had declined from 49% to 44%.
Most employers found their education leavers to be 'well' or 'very well' prepared
Eight out of every ten employers we spoke to that had recruited a leaver from a Scottish university said they were well or very well prepared for work. University leavers were most likely to be seen as 'well' or 'very well' prepared for work (80%) by employers, followed by college leavers (78%) and then school leavers (68%).
Employers offering formal apprenticeships has continued an upward trend
Just under one in five employers (19%) offered formal apprenticeships in 2021. This is higher than the proportion of employers offering apprenticeships in 2019 (16%), continuing an upwards trend since 2014. The proportion of employers offering formal apprenticeships increased with employer size, ranging from one-in-ten employers with 2-4 employees, to just over half of employers with 100+ employees, as shown on the chart below.
Figure 2. Proportion of employers offering apprenticeships (including those that have current apprentices) by establishment size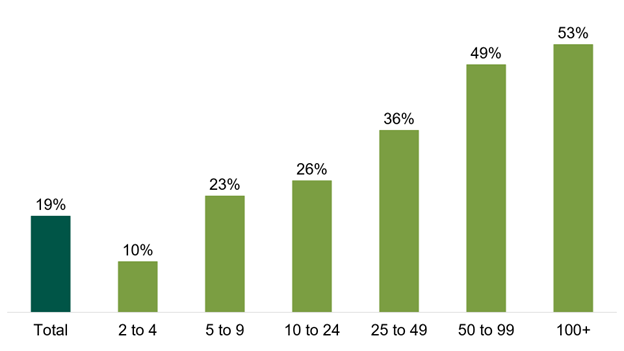 Just over six-in-ten employers that employed an apprentice had only one apprentice, with a further 22% having between two and four at a time. On top of this, four out of every ten employers we spoke to plan to either continue offering or start offering apprenticeships in the future. This is an increase from around a quarter of employers reporting the same in 2019.
How will this data help the Scottish Government?
The Scottish EPS 2021 provides the Scottish Government insight into the views and actions of employers across Scotland when they seek to meet their skills needs and offers an assessment of employers' views of the external skills system. The results of this survey will also a strong platform of evidence to inform policy decisions across the Scottish Government and its wider stakeholders.
The full Official Statistics release can be found here on the Scottish Government's website.