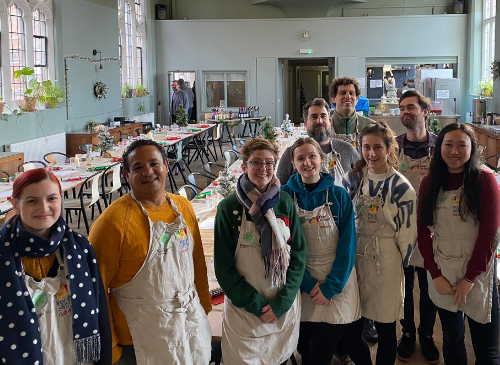 At Christmas, instead of sending unnecessary gifts to our clients, we give on their behalf instead. This year, we chose to support Refettorio Felix. Refettorio Felix is a drop-in centre in West London that makes restaurant quality meals from surplus food for their guests. While their guests come from different backgrounds or walks of life, what they all have in common is that they're socially isolated – whether that's without a home, lonely at home, or struggling with addiction and mental health challenges.
To make the donation more meaningful this year, and give more than money, some of our team used one of their two annual volunteering days to go and help at Refettorio Felix's Christmas Party that serves 120 local vulnerable people with a three course Christmas meal and a gift.
A time to give back
Christmas is a meaningful and reflective time for so many and it's a great time to give back to those less fortunate than us. Whether you do or don't celebrate this time of year, one thing is for sure, if you're reading this from a device that's yours, whilst on a break from a job you're paid fairly to do – we are the lucky ones. And recognising that and using what we have to go and give to those that could do with a helping hand is the ultimate festive gift.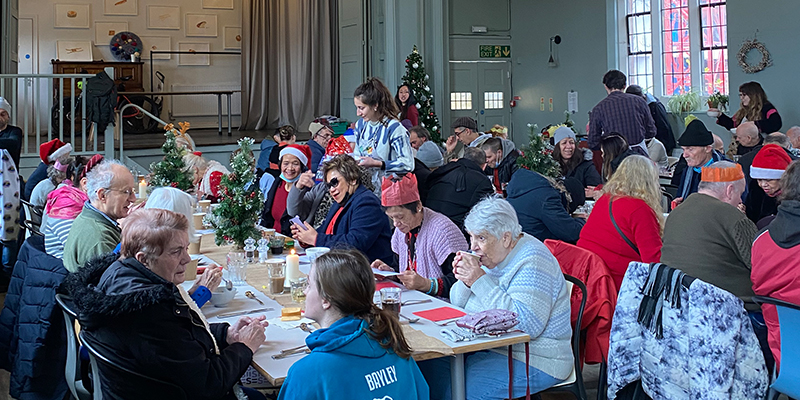 A sense of perspective
Perspective is a wonderful thing. It can create waves of change and makes sure we don't get lost in versions of our own experience and reality. Much of our work at IFF creates evidence for change, to inform policies. Getting out in the world and being able to place that work, and the work of our clients, in context is super valuable. It can only mean we better serve our purpose when managing projects. Ultimately, it helps us really understand the place our findings have in the wider world.
"It was great to see – and be a small part of – the efforts that go into creating such a warm, homely space where absolutely anyone is welcome, and it was especially special to do it at Christmas time." – Gill Stewart, Associate Director, IFF.
A practical helping hand
It's easy when volunteering, or even thinking about it, to question the difference you can actually make in one day. But volunteers are part of the building blocks that mean Refettorio Felix has hands-on-deck to deliver their incredible service. Practical jobs need doing that result in a dignified social experience for its guests. Refettorio Felix does not have the budget to pay staff for those practical hands and without that, their guests would not get to experience Refettiorio Felix that they value so much.
Our volunteers were struck by the diversity of the guests at Refettorio Felix and what an incredible sense of home it created. By giving a little bit of our time, we feel proud to have made a small contribution to a special place that is at the heart of it's community.