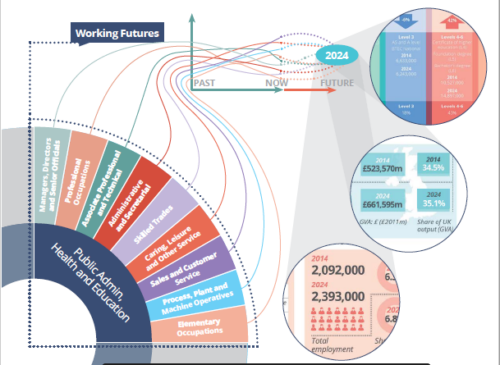 What is Working Futures?
Working Futures is a publicly available source developed by the Institute for Employment Research in conjunction with Cambridge Econometrics that predicts the shape and size of the future labour market. In a series of predictions – the current being based on the period between 2014-2024 – Working Futures uses various data sources including The Office for National Statistics' UK National and Regional Accounts, Input and Output Supply and Use Tables, The Labour Force Survey and the 2011 census. For universities, it is a great source of information on the future demand for skills to help inform curriculum development (see graph above).
What does the current release of 'Working Futures' tell us?
The Working Futures model predicts sector, occupational and qualification trends, neatly summarised in the Working Futures 2014-2024 summary report. It summarises growth across the six broad sectors and 25 occupational sub-major groups and the shift in the qualification profile of the workforce using the Regulated Qualifications Framework.
A quick skim through the report, highlights some really interesting nuggets.
In terms of sector, Construction is predicted to see the fastest rate of growth due to projects like HS2 and Crossrail 2 but also because of the increase in the UK population, which is expected to exceed 70 million by mid-2031, and the subsequent need for housing.
The predicted occupational profile not only takes into account employment growth but also replacement demand – vacancies created by people exiting the workforce either temporarily for example because of illness or family reasons (maternity leave) or for permanent reasons for example through retirement.
Looking at projections based only on employment growth, higher level occupations such as managers, professional occupations, associate professional and technical roles are expected to be more in demand by 2024. And the emerging role of automation is evident in the decline of some elementary roles like factory workers.
What impacts the occupational profile most significantly however, are replacement demands which are expected to create seven times as many job vacancies as net growth. So actually, overall, there will be job openings across all occupations in the years up to 2024.
The level to which the workforce is qualified is also set to rise; by 2024 over half of people in employment expected to be qualified at Level 4.
What does all this mean for universities?
Working Futures offers a rich source of information about future labour market trends. With this data in their hands, universities can anticipate the demand for skills needs and qualifications in the coming years and use this intelligence to review, develop and potentially expand their portfolio provision. So, well worth keeping an eye out for the next release this year which will provide projections for the 4 nations and 9 English regions!
Looking for Further Guidance?
Ahead of tomorrow's Graduate Employability conference we've explored a range of different data sources available for universities including the Employer Skills Survey, learning analytics, Planning for Success and lastly Working Futures.
If you'd like to discuss any of these data sources, or any wider needs within your university regarding graduate employability, our higher education team would be happy to help.