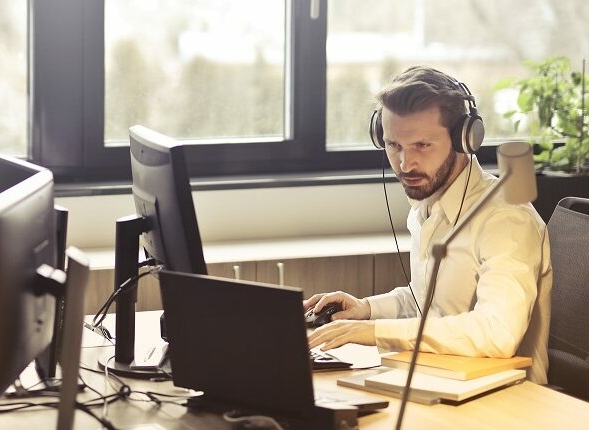 With increasing frequency, organisations are focusing on ways to tailor and improve individualised customer experiences. Sometimes, this takes the shape of new KPIs, and for other organisations, this involves a change in their ways of working and a focus on development of a Customer Experience (CX) strategy. These CX strategies are built by taking on board customer views and using Experience Management (XM) techniques to take account of staff views and constraints.
In our previous blog, we set the scene to understand customer experience fundamentals  and how these principles help social housing providers improve services for their residents. We also explored how CX strategy is increasingly created in partnership with residents and employees in an XM framework. These values are illustrated through an XM example from Abri (formerly Radian Group).
In this blog, we collaborated with Ann Gibbons, Executive Director of Customer Services at MTVH, to set out a practical framework to help you get started with your CX strategy.
What is a customer experience strategy?
Simply put, a strategy is a roadmap that sets out where you are, where you want to be, and how you are going to get there. The most effective strategies are underpinned with key action plans and reporting structures that ensure that the strategic aims are being met. Ann explains how the CX strategy developed by MTVH covers every customer experience and is based on a single set of principles:
Services designed to meet customer needs
End-to-end services
Get the basics right
Online first
Focus on purpose, not process
Try things out
Compliant
Person-centred
MTVH's customer service activities and systems, such as their developing CRM and digital platforms, will always be designed to align to this set of principles, so that MTVH delivers a consistent and strong customer experience upon which their residents can depend.
"The principles are absolutely core to us in how we deliver services, and were designed with input from colleagues and customers, but to deliver a future-proofed CX strategy you must continue to check-in with the customer. Customer needs change over time."

Ann Gibbons, Executive Director of Customer Services, MTVH
MTVH's current focus is to get as many simple transactions completed digitally to free up human resource on customers with the highest need or those at risk.
Learn from shared best practice in social housing
Join experts in CX and social housing  and watch the panel discussion and Q&A on CX in Social Housing.
Why do housing providers need a customer experience strategy?
Understanding your services from the point of view of the customer will help you improve your services through the most important point of view – that of your resident. There is sometimes a disconnect between the services that a landlord provides and what the resident actually needs and experiences.  A strategy for understanding your customer experience will not only help eliminate unintended consequences and unnecessary pain points for the customer, it will help your entire organisation empathise with the customer journey as it's experienced.
Ann explains that, in her view, traditional governance and regulation in housing has been based around Development and Finance as these are the key focus of the regulator.  Because "customer" doesn't yet fall into that governance, it hasn't been a skill that has been top of the list for many associations at Board and Executive level. This is understandable as Boards are about assurance, so an organisation is always going to compose their board of people who are able to challenge and develop those regulated areas.
"Post-Grenfell, consumer regulation changes are going to be quite significant. At MTVH we have already recruited a broader set of Customer Experience skills at Board level and completely re-designed the role of residents and customers in our governance structure. We all know it's coming… any housing association that doesn't have a customer experience strategy and the skills and experience to deliver it really needs to challenge itself." 

Ann Gibbons, Executive Director of Customer Services, MTVH
You've likely heard the phrase, "what gets measured gets done".  An organisation can create a culture of bad practice simply by measuring the wrong things, because those performance measures ultimately drive the activities, resources, and structure of your organisation.
Understanding the aspects of service delivery that matter most to customers, and shaping your actions, resource allocation, performance measures and governance structures around those priorities will lead to a customer-centric culture, one that is guided by your CX strategy.
What is the difference between customer experience and customer service?
Customer service has a clear outcome and is defined by what it delivers, for example, a repair.  A customer experience is the bubble within which it is wrapped, for example, right first time, being polite and knowledgeable. Understanding the customer experience helps you make promises to customers and tell them what they have a right to expect. It also helps you to meet that customer expectation at the point of delivery.
"Expectations change based on what you promised."
Ann Gibbons, Executive Director of Customer Services, MTVH
Ann recalls the three rings of CX that she learned (and taught others) from her days at Whitbread, one of the UK's leading hotel and restaurant companies. What customers need is the central core, the middle ring is the customer expectation and the outer ring is the 'wow' of unexpected service which goes above your expectation.  Successful organisations are not about the third ring, but about consistently delivering on the middle ring, which is meeting the customer's expectation. If you don't deliver against that expectation consistently, the customer experience will be poor and you will fail to build trust.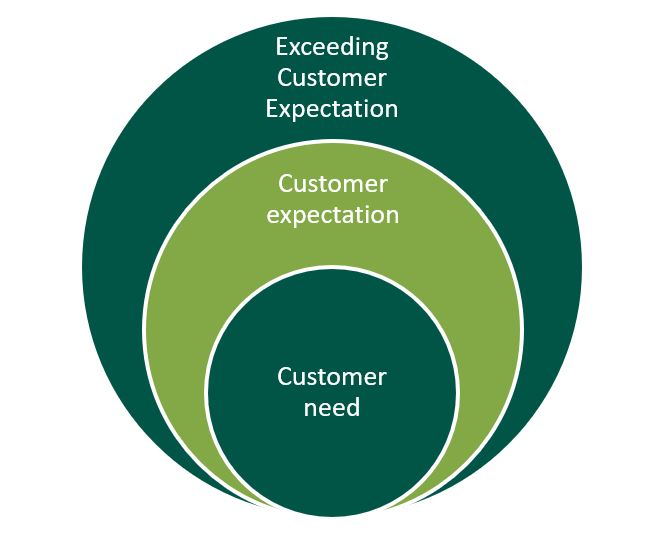 Who should shape the customer experience strategy?
"Customers should be engaged according to the outcome you are trying to achieve", explains Ann. When and why you engage customers in a process is key.  Housing professionals are paid to manage risk and make decisions and it isn't always appropriate to involve customers at every step. You want to engage customers in aspects of service delivery that relate directly to customer experience. For example, some questions that would be fantastic for customer input during a tender process might be:
Which of these organisations do you think is going to give us the best end-to-end service?
Which of these organisations have policies that seem focused on what you want as a customer?
By involving customers in services you genuinely want their input on, their involvement is valuable and relevant – and they can see the impact of the feedback they provide.
In the same way, when we engage with colleagues in an organisation we should involve them in shaping experiences that will make it easier for them to do their jobs.
How does research support a customer experience strategy?
IFF Research was commissioned to carry out focus groups with MTVH customers around what the end-to-end customer experience meant for supported, shared ownership and leasehold customers – to provide well-informed KPIs to measure operational satisfaction internally.
In terms of published satisfaction figures, the expected change in consumer regulation might bring standardised measures of satisfaction in a more consistent way across the sector, with identical questions, response codes and asked for the same customer scenarios.  Research underpins that consistency, allows standardised benchmarking, reporting back to the regulator and allows customers to hold organisations to account.
Summary
In this post-Grenfell world, your customers must have a voice in the services you provide and how they are delivered.  But, it needs to be a voice that holds power – so that landlords can demonstrate how they are acting on the collective voices of their customers. CX is about incorporating customer voices into strategic design, processes and policies. This will enable you to develop an adult relationship with residents rather than a paternalistic one.
By adopting basic principles, involving residents and colleagues, and setting customer expectations that are consistently achievable, your customer experiences will improve and lead to greater overall satisfaction.
Learn from shared best practice in social housing
Join experts in CX and social housing for a panel discussion and Q&A on CX in Social Housing. Watch the webinar on demand today.