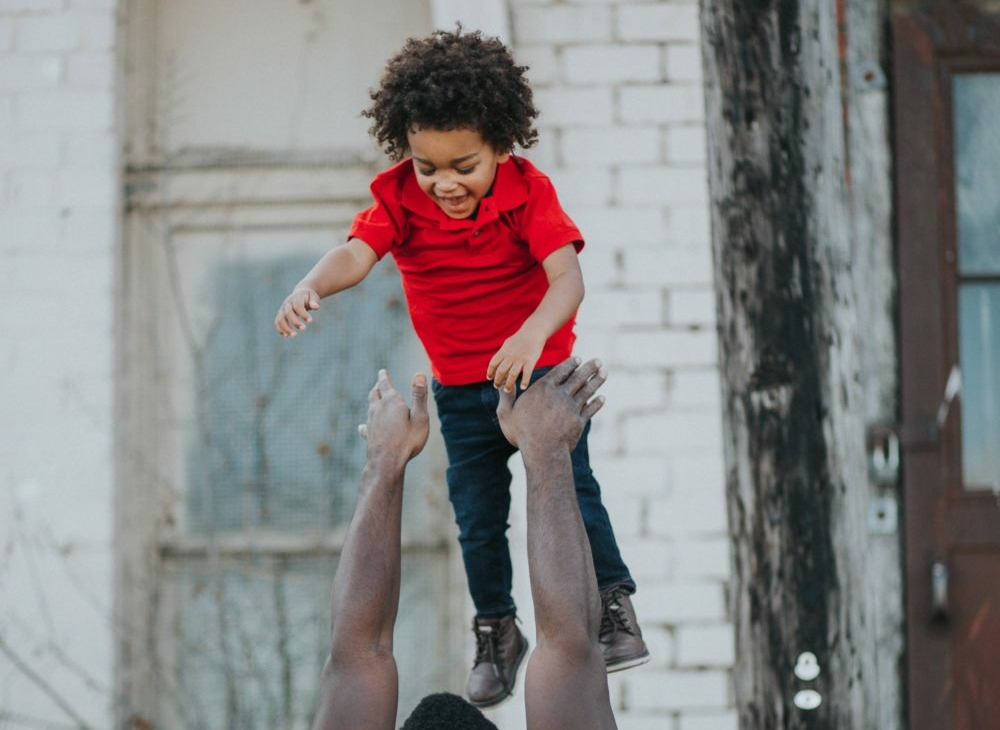 A recent study suggests trust in government bodies and authorities has flatlined. In this blog, we examine why trust matters in social housing, and why increasing numbers of registered providers are measuring Customer Trust as a key metric.
The increasing importance of customer trust
The Social Housing Green Paper response to the Grenfell tragedy puts customer trust at the centre of a "re-balanced" tenant and landlord relationship.
"…many people living in England's four million social homes feel ignored and stigmatised, too often treated with a lack of respect by landlords who appear remote, unaccountable and uninterested in meeting their needs. It's a situation the residents of Grenfell Tower have spoken about in powerful terms, not just in the wake of last year's tragedy but also in the months and years before – only for their voices too often to go unheard."  — Theresa May, Social Housing Green Paper Foreword
"Remote, unaccountable and uninterested" are not the hallmarks of relationships that landlords seek to achieve.  By increasing trust between tenants and landlords, these negative perceptions may start to reduce.
Barbara Shaw, Chief Executive at Westward Housing explains why they are measuring trust:
"There is a movement toward a more adult relationship between customers and providers. We have been using a Net Promoter Score, which our customers and our board relate to consumerism, as the score is directly related to customer choice. At Westward, we feel that it's more about building that adult-to-adult relationship with your customer, and does your customer ultimately trust you?"
"In order to prepare for our next strategic plan, Westward is moving to a Trust Score. We have asked IFF Research to prepare our baseline score, with filters to look at age, location, need type, property type, and local authority."
"As a public service provider, we feel that trust (rather than reputation) is more closely aligned to the needs of our customers, where little choice is provided." — Barbara Shaw, Chief Executive of Westward Housing
Similarly to 'overall satisfaction with your landlord', the key metric of the early 2000's, 'customer trust' is a concept rather than a concrete service that landlords deliver. Beyond just asking 'how much do you trust your landlord?' registered providers need to understand what functional elements of service build or damage that conceptual perception of faith by examined a range of elements that factor into customer trust. Below, we suggest what these functional elements may be and offer sample questions and response codes that our clients have implemented successfully in the past to monitor customer trust.
Safety and security as a factor
Fire safety, gas safety, electrical safety and neighbourhood security are fundamental landlord services, with increased attention and scrutiny post-Grenfell.
To understand the extent that safety and security factor into your customers trust in your organisation, you could ask a closed question such as one of the three examples below and review the extent to which responses on feelings of safety and security correlate with perceptions of trust:
How satisfied or dissatisfied are you with the safety and security of the building you live in? (Very satisfied – very dissatisfied, on a five-point scale)
How satisfied or dissatisfied are you with the safety and security of your home? (Very satisfied – very dissatisfied, on a five-point scale)
If you were to raise a building safety issue (including fire safety), do you have confidence service staff would listen and act on your concerns? (Yes, No, Don't know, Refused / unable to answer).
Age as a factor
Westward has carried out significant work to understand customer trust. When analyzing their recent trust score by age, there is a drop point at age 31-50, which challenges their assumptions that there is distrust with their younger age brackets.
The important feature of the Net Trust Score exercise at Westward was the follow up open question:
And why did you give Westward that score? 
Importantly, this open-ended question was not conditionally based on a low score, but instead it was asked to all 556 respondents to the trust question, resulting in 513 freetext comments to help inform Westwards communications and strategy.
Barbara adds, "Westward needs to progress on trust and we want to demonstrate to our board and our customers that we are actively working to increase trust in the tenant-landlord relationship."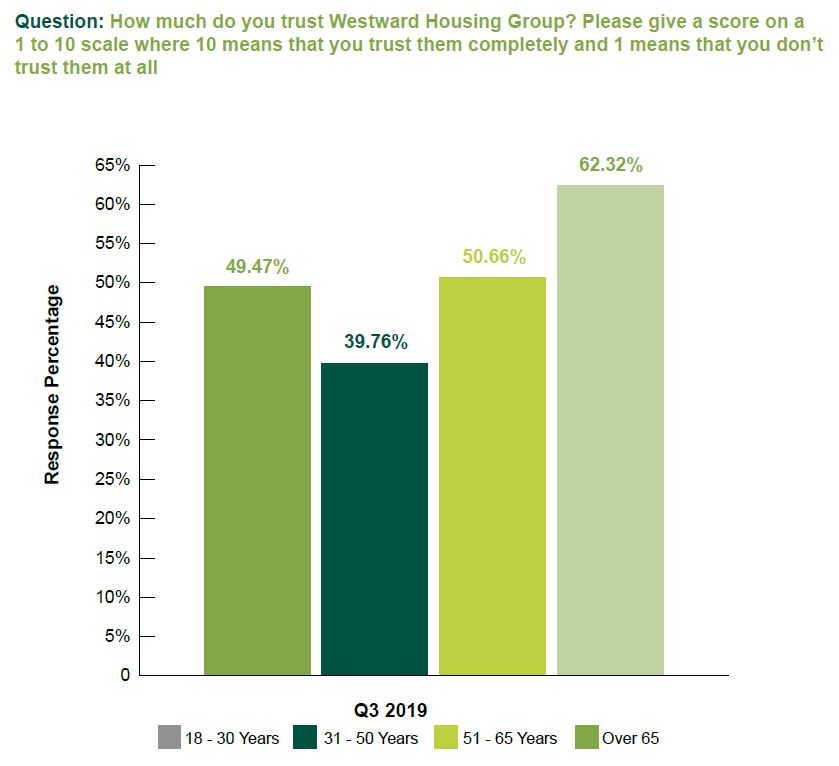 Communication as a factor
A key component in building customer trust is understanding, and then meeting, customer expectations.  This can be driven by communications. Dissatisfaction with the outcome of a transaction is related to a landlord not getting back to customers or keeping them informed, so there is a communication gap that is driving a wedge in the relationship.
Many landlords have started to use customer expectation and communication in their customer satisfaction surveys.  For example, in a transactional survey, you can relate your question to the recent customer touchpoint:
Did the completed work meet your expectations in terms of what you expected to be carried out? (Yes Fully, Yes Partly, No, Not sure)
How does your new home compare to your expectations? (Much better – much worse, on a five-point scale)
How strongly would you agree or disagree that the (service) you received from (insert landlord) met your expectations? (Strongly agree to strongly disagree, on a five-point scale)
Setting and meeting increasingly demanding customer expectations is a tricky area for some landlords. Meeting expectations isn't just about delivering to blanket service standards, it may mean something different to every customer depending on what is important to them. Partly, this can be achieved by communicating service standards effectively and consulting with customers during their redevelopment, but beyond that, providers need to tailor their delivery to different customer segments. Identifying customer segments and understanding what matters most to each of them is the first step towards this.
Distance as a factor
Distance, not in metres or miles, but more in terms of visibility is seen by Westward as an increasingly important element of building customer trust.  Barbara explains, "In the research we've conducted, we are finding that tenants are more dissatisfied if contact was a long time ago. All of the people that are highly dissatisfied have had contact over a year ago."
To measure distance and visibility, ask your questions in a perception survey, rather than a transactional survey. Transactional surveys are great to measure how your service is delivered right now and what you may need to focus on to improve. However, only measuring transactional customer satisfaction misses the views of a whole group of customers who haven't interacted with you recently; who may have unmet needs, who may not know how to access services or who may be broadcasting negative perceptions of your service.
Customer experience programmes need a balance between transactional surveys and wider perception surveys to get a balanced view of the customer voice.
In conclusion
Customer trust is complex and there are many factors that play a part.  From getting the basics right in terms of safety and security to the more abstract concepts of feeling distant, there are practical steps you can take to measure, analyse and improve customer trust at your organisation.  With the Government calling for improvements to customer trust, now and in the future, the time to start measuring trust is now.
Monitoring your freetext feedback for keywords such as safety, security, communication and visibility can provide an indication of the trust in your tenant-landlord relationship (and is more likely to be expressed than the word "trust"), but ultimately, the way to understand customer trust, is to ask.
If you are interested in a deeper understanding of trust in your customer relationship, Westward is looking for benchmarking partners with their 12-question survey.  Get in touch with our housing team to get started.