What is the School and College Panel?
The School and College Panel (SCP) enables the Department for Education (DfE) to understand the views and experiences of senior leaders and classroom teachers/tutors in primary and secondary schools and in colleges.
This is vital research that informs DfE policies and ensures they have an up-to-date picture of the rapidly changing education landscape. Examples of policies the SCP have informed are shared below in the green boxes.
It's an online panel, run by IFF Research, which involves regular, short online surveys on topical education issues.
Following feedback from those taking part, this page was created to help panelists and those interested in the SCP, to access a snapshot of the findings more easily.
We have also highlighted the many policies and programs the data from SCP has helped inform. These can be found in the green boxes below.
"When the Omicron variant caused a significant spike in COVID-19 cases, the Department needed to understand how Education Recovery Interventions in schools were being affected. The School and College Panel meant we were able to gather evidence quickly, and robustly, to better inform our thinking."

Emily Sever,

Senior Researcher in Education Recovery

"The School and College Panel is an essential tool for helping DfE to quickly understand the views of teachers and leaders. During the pandemic the panel provided the department with vital data to help inform our pandemic response, and is now continuing to play an important role as we move into recovery."

Vicky Petrie,

Chief Social Researcher, Department for Education

"The SCP has allowed us to gain insights directly from a large number of teachers and leaders on a range of crucial issues – from how the COVID-19 pandemic has affected personal wellbeing, to schools' approaches to offering flexible working arrangements. The findings have fed directly into our work to support teachers and leaders, including the recent update to the school workload reduction toolkit. "

Katie Tyson and Amy Collins,

Deputy Directors, Supporting & Rewarding Teachers and Leaders Division, Department for Education

"Having the omnibus survey has been invaluable for our support of the National Tutoring Programme policy. It has enabled us to explore rapidly reasons for non-participation in the programme in its first year, and adapt the programme accordingly in year two. It also allowed us to test out options for the year two model of the programme, ensuring that the redesign was evidence led."

Alice Phillips,

Education Recovery Research and Evaluation Team Leader, Department for Education

Why do teachers and leaders take part in the SCP?
"Quick and simple to answer questions"

School and College Panelist,

Primary Teacher

"It is a great opportunity to collect school's perspective on key areas in order to inform future policies and practices."

School and College Panelist,

Secondary Leader
Recent key findings
Below we highlight a small selection of findings that were captured in the October and December 2021, and February 2022 survey waves.
All recent publications can be found here.
Education Recovery
The majority of teachers felt that pupils were behind in their learning, and this has increased since June 2021.

Half of teachers reported that pupils were more than three months behind in their learning (up from 27% in June 2021).
Three-quarters (75%) of secondary schools had run a summer school which are aimed at helping catching pupils up in lost learning.

Two-thirds (64%) of secondary leaders and teachers felt that their summer schools were effective to some extent at improving both literacy/English skills and numeracy/Maths skills.

Summer schools were seen as an effective way to support pupils with a Special Education Needs and Disability (SEND). Helping these pupils to establish relationships with other students (96%), build social confidence (95%) and help with transition (93%).
Questions on education recovery have filled evidence gaps on learning loss for pupils in KS4 and KS5 and on the impact the pandemic has had on SEND pupils which been used in decisions on targeted support for pupil groups.
Findings on summer schools has been used alongside wider research on this programme to feed into decisions about similar future programmes.
Leader and teacher wellbeing
Since April 2021, teachers have reported lower levels of life satisfaction. Levels are better than December 2020, but worse than pre-COVID.
Feelings of worthwhileness have significantly decreased since an April 2021 peak, and have returned to February 2021 levels.

The SCP has played a crucial role in helping DfE measure teachers' and leaders' wellbeing, particularly during the pandemic. The findings have fed into our ongoing work to support the sector at this challenging time, alongside our engagement with leaders, teachers, and their representatives.
Specific actions we've taken recently include publication of the Education Staff Wellbeing Charter, which we are encouraging schools and colleges to sign up to. As of the 1 April, over 1600 schools have signed up to the charter.
Evidence from the SCP also informed the launch of our new mental health and wellbeing support package, launched in November 2021. The scheme is supporting around 2,000 school leaders through peer support, one-to-one counselling and individual supervision, until March 2023.
While we have made progress working alongside schools, we recognise there is still more to be done and will continue to use the SCP to help us understand teachers' and leaders' views on their wellbeing and our policies.

Mental health support in schools
In 2018 NHS England and DfE introduced Mental Health Support Teams (MHSTs) in schools and colleges to promote and support mental health by offering early intervention for pupils and students with mild to moderate mental health needs.
In February 2022, two-thirds (68%) of schools said they had heard of the MHST programme, with awareness higher amongst primary schools (70%) than secondaries (61%). Of schools aware of the programme, around a third (36%) were currently working with an MHST.
Schools had also been offered the following support for mental health and wellbeing of pupils by their Local Authority: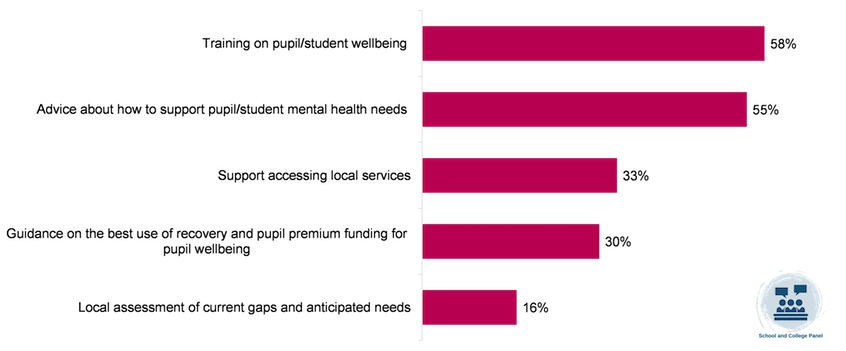 These SCP findings are useful in helping us understand the awareness of the MHST programme and how this varies amongst different schools. This helps us understand how our engagement and communications can be improved in the future to ensure more schools can access this type of support.
Flexible working
Among schools offering some form of flexible working, the majority agreed that flexible working had a positive impact on overall teacher and leader wellbeing.
The majority (82%) agreed that flexible working had helped retain teachers and leaders who might otherwise leave to 'any' extent.
Almost three-quarters (74%) agreed that flexible working had improved the overall productivity of teachers and leaders to 'any' extent.
More school leaders felt the benefits of flexible working outweighed the associated costs within their schools than felt the costs outweighed the benefits.

Supporting schools to implement flexible working forms a core part of the DfE's 2019 Teacher Recruitment and Retention Strategy.
The Department is encouraging schools to adopt a strategic approach to implementing flexible working and has undertaken a range of activity to promote flexible working in schools, including the publication of a suite of supportive resources (including non- statutory guidance and case studies). In March 2021, DfE also appointed eight Flexible Working Ambassador Schools to act as champions, share best practice and provide peer support to other schools locally.
Findings from the survey have helped the Department build our evidence base, inform the strategic development of the policy area, and shape qualitative research with schools.
Workforce Capacity
Two thirds of schools were concerned about not having sufficient teaching assistants and cover supervisors.
Leaders were also concerned about stress/burnout of current staff (82%), staff absence due to COVID-19 related illness (72%) and overall school funding (59%).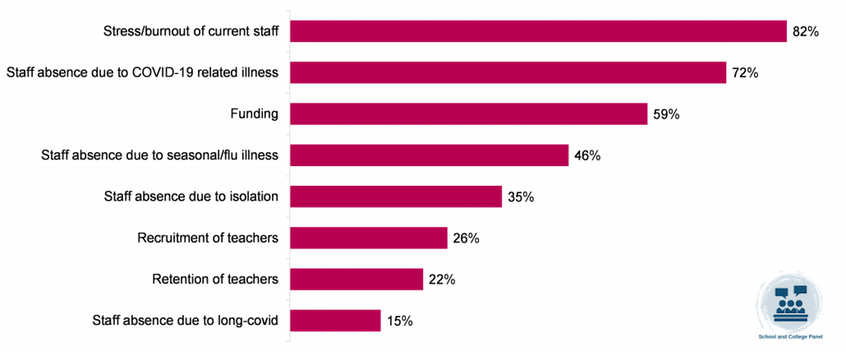 The SCP captured measures schools thought would be effective in reducing staff absences over the coming term. These included addressing unmanageable workloads and associated staff burnout / stress, consistent rules regarding COVID-19, greater flexibility from Ofsted and DfE and quicker access to funding for staff.
"More attention to reducing workload and allowing teachers the time to get better properly after a period of absence. More focus on the mental health and wellbeing of staff."

School and College Panelist,

Primary Leader

"Mandatory wearing of masks for all students in all internal areas of schools. Clear national guidelines on isolation rather than regional/LA guidelines"

School and College Panelist,

Secondary Leader

"Lack of funding for us is crucial, we are unable to employ LSAs for more than 2 hours per morning meaning children are missing out potential learning opportunities, those who are employed are stretched to the limit doing cover for others off with COVID-19."

School and College Panelist,

Primary Leader
Findings on workforce absence have been used to inform decisions around extending the COVID Workforce fund and has informed guidance to leaders on best practice for managing workforce absence.
The Department re-introduced the COVID-19 workforce fund in the autumn term to provide financial support to eligible schools and colleges. The fund has been extended until Easter to cover the cost of term-time staff absences experienced between 22 November 2021 and 8 April 2022.
Knife crime
There has been concern that knife crime incidents would rise following the easing of COVID-19 related restrictions. As schools are uniquely placed to understand the prevalence of these issues for their pupils, this question has been asked in order to track any trends in knife incidences involving school pupils.
In February 2022, 8% of primary schools and 48% of secondary schools reported that knife crime was a safeguarding issue their school was currently dealing with. This was a significant increase amongst secondary schools since October 2021.

Findings on safeguarding issues has helped the Department understand the number of schools dealing with these issues to inform the scale of funding and design of guidance needed for each SAFE (Support, Attend, Fulfil and Exceed) taskforce. These taskforces have already helped alternative provision schools in the 22 areas where serious crime is most prevalent, with professionally delivering targeted support. The Department is now looking to set up new SAFE taskforces led by mainstream schools to deliver evidence-based interventions for those most at risk of becoming involved in serious violent crime.