Help us make a difference through research
A career in social research can be hugely rewarding – knowing the work you're doing is having a positive impact on society. At IFF we believe in giving our graduates and trainees the opportunity to experience all aspects of the role of a researcher. Our industry leading training programme gives you the opportunity to rotate around different teams, experiencing work within all of our sectors, and across the full breadth of methodology which is sure to get your research career off to a flying start.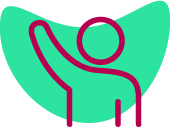 Make a difference
Enjoy meaningful work that will make a difference to the lives of others.
Explore your interests
By working across varied sectors and different types of research, you'll discover what really excites you and begin a rewarding career with vast opportunity for development.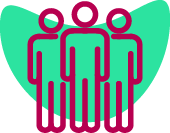 Join a fun and friendly team
Be part of a supportive and inclusive team, with regular social activities, including regular team lunches, netball matches and games evenings.
Setting you up for success
Our trainees and graduate researchers spend their first three weeks working through our Training Project. This is an industry leading programme accredited by the Market Research Society designed to walk you through each and every step of the research process: from understanding the research purpose and using the right questions, to analysing the data and reporting your findings.
You'll be part of a group of new trainees all learning together with the opportunity to "have a go" at all stages in our interactive training sessions.
We believe in ongoing learning at IFF, so it certainly doesn't stop after the initial programme. You'll have the opportunity to rotate round our three research teams in your first year, gaining valuable skills and experiencing the variation of our 8 different business sectors. You'll also have access to a wide range of internal and external training to help you along the way!
"I joined IFF on their graduate programme. The training was useful in understanding all stages of the research process and what my job would entail in the first year or two. It gave me confidence to get involved in new methods beyond ones I'd used in my degree, as well as those I'd already had practice with. I've found IFF to be a really encouraging place to start a career, with a great group of people on hand with advice and help whenever I need."

James,

Senior Research Executive

"I've really enjoyed my time at IFF so far! The training is very comprehensive, covering every step of the research process! Everyone is really friendly and willing to help with any questions, which made settling in so much easier. Being able to work on projects whilst undergoing training really helped to put everything into context and gave me real life experience."

Jolyne,

Research Executive

"It's so easy to get involved with social activities at IFF, with everything from book club and theatre trips, to netball, or drinks after work. And if there isn't a club that suits your interests, you can create your own! The range of social activities is just one of the many ways that IFF ensures that everyone feels welcome – and can have fun and relax after work!"
Interested in joining our graduate programme?
Unfortunately, we're not currently recruiting. But, if you register your interest on the form below, we'll be in touch as soon as we are.