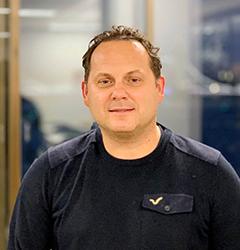 Hello there,
I'm Tyrone Field
Dedicated father of three, aspiring chef, amateur builder and lover of weekends away
A little bit of what I do
I co-founded Voluntas in 2009 looking to bring my 25 years of ICT experience into the research world and after 10 successful years we were acquired by IFF Research. During the transition I enjoyed my time at IFF so much I took a position as Director of Innovation and Technology and now look to bring that technological edge to the great research IFF have delivered for many years.
What I've achieved
I've had a diverse journey within research, starting in the early days of software development, moving into ICT support, procurement and project management. I always wanted to work for myself so starting and growing my own business was a lifelong goal achieved. A passionate problem solver, I thrive on projects where people and technology can be combined to make a marked improvement in the way things are delivered. I believe that data helps us all make better decisions and I've spent years helping organisations present, mine and understand their data, allowing for better-informed decisions, which improve service delivery.